Beginners, Amateurs, Teachers, Musicians and Singers who have minimal piano Skills. (Might know how to play a few chords but can't get to them quickly and would freak out if asked to play a Db7).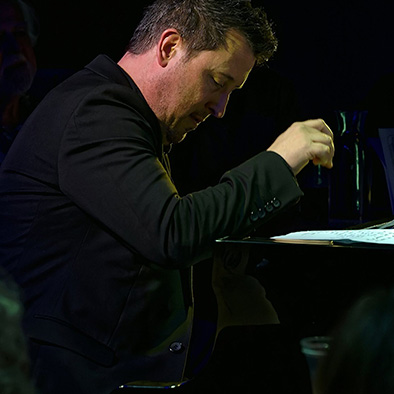 DAVE'S NOTES ABOUT THIS WORKSHOP
I had taught hundreds of Piano students but nothing could prepare me for what happened back in 2010!
I started teaching jazz piano at a university where the students needed to learn 3 songs a week and jam on them in 3-hour ensembles every Friday. Problem was, that some of the students had only been playing for a few months and couldn't cut it. I asked myself "what is the bare minimum they need to be able to jam"... I created shortcuts and quickly got them comping and accessing the chords with ease, over the next few years I developed a method that gets anyone playing quickly, understanding chords and feels and accessing them fast! 
Now, in a first piano lesson with a new student, I have them playing ALL major and minor triads in 5 minutes. By the end of the hour they are reading chord sheets and playing feels. Within a month they are playing all seventh chords and jazz lead sheets.
It's a truly exciting approach and I know it'll help you immensely. I'm keen to meet you in the zoom workshop and share it with you.
WORKSHOP CONTENT
Here's a look at what we will do together.
Don't panic... Students and Teachers who have taken this workshop have come in with varying levels of piano ability and ALL have found value! I have developed a great system to get you firstly to understand where all the chords are - and then you can build your skills through some methodical (but very fun) exercises. 
---
Becoming confident getting around the piano
---
Learning to love the Circle of Fourths/Fifths
---
Chord types and Chord Symbols
---
Tricks to play all 3-note chords (Triads) effortlessly
---
How to play a few basic Feels and grooves from including Bossa, Pop, and Ballad styles
---
Seeing patterns on the piano
---
How to effortlessly play seventh chords
---
Inversions for moving minimal fingers
---
Taking your feels to the next level
---
Introducing a swing feel
---
Taking your baselines to the next level!
---
Bassline Embellishments
---
Introducing more great grooves and feels including Tango and Samba styles
---
Benefits of rootless voicing
---
How to effortless play ninth chords
---
Other Common Chords (Augmented, Half Diminished, Diminished, Altered)
---
Putting it all together
What are you waiting for?
I would love to see you in the Workshop!
If you are excited about taking your skills to the next level come and join me in these zoom sessions. I promise it'll be worth it!
BIOGRAPHY
About Dave Spicer
Dave Spicer is very active within the music scene in Australia and shares an equal love of performing and educating.
As a Singer, Pianist, and Songwriter, Dave has spent the last 25+ years supporting and collaborating with some of Australia's biggest talents. He has numerous recordings, television, radio and festival appearances to his credit all over the world. Dave has been an award winner and finalist for many competitions including the Australian National Jazz Awards.
As an Educator, Dave holds a lecturing position within the Conservatorium of Music (Griffith University) and has guided hundreds of graduates and post-graduates into the Australian Live Music Scene. He regularly speaks and presents for other universities, schools and organisations, sharing his joy of music and love of creating.
After years of avoiding social media and working on other artists' music, he has now decided to let the world in, and turn his creative juices towards his own musical projects (arrangements and originals).
You can follow Dave across his social media channels.